Our Replacement Process Makes Window Replacement a Snap!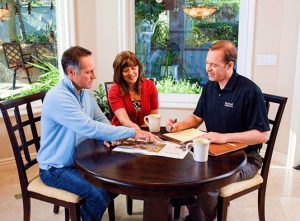 Enjoying a seamless, worry-free window and door replacement process is easy when you turn to Renewal by Andersen® of Montana. You can rest easy knowing our proven process can be trusted for a quick, efficient project that will have you enjoying your new windows in no time.
As the exclusive representative of Renewal by Andersen in Montana, our window company is happy to talk you through each part of the process before beginning so you know exactly what to expect every step of the way. Here is the detailed process we follow for replacing windows and doors.
Step 1: Custom measurements. Our factory trained professionals will come to your home and take detailed measurements so your windows and doors will fit perfectly upon installation.
Step 2: Arrival for the project. Later, we will come back to your home with all the tools, equipment and designs needed to complete your project.
Step 3: Preparation. Our team will move furniture and valuables away from your windows and doors so no damage occurs. We will also drape your furniture and flooring, plus we always wear protective footwear.
Step 4: Removal of old windows. We will carefully remove your windows, keeping dust and debris to a minimum.
Step 5: Installation. We will install your new windows, taking care to realign and readjust the levels so your new replacement windows fit just right if warping has occurred (this is common). Then we will test every window to ensure they open and close easily.
Step 6: Weatherproofing. We will fill any gaps between the new windows and frames with specially formulated insulating foam that prevents drafts from infiltrating the interior.
Step 7: Finishing touches. We will cover the foam with a beautiful trim to complement your interior. We will then take off the film that comes with new windows, replace all furniture, and clean up the area.
No other window company offers such a detailed, step-by-step process to ensure a smooth, simple and trouble-free window replacement project. Count on Renewal by Andersen of Montana to take care of your replacement window needs from start to finish!
Choose Montana's Top Window Company for a FREE Estimate
Our window company can offer you a free, no-obligation estimate when you call us at (406) 259-3944. Learn more about our replacement process when you call, too! Renewal by Andersen of Montana is located at 619 Daniel St, Billings, MT 59101 for your convenience.
"Renewal by Andersen" and all other marks where denoted are trademarks of Andersen Corporation. © 2017 Andersen Corporation. All right reserved.