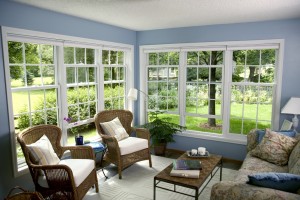 Renewal by Andersen® of Montana: Windows That Add Beauty and Comfort to Your Life
Backed by 100 years of quality service and products, Renewal by Andersen® is well known throughout the country for providing beautiful, durable and energy efficient windows that last the test of time. With such a wide spectrum of replacement windows available from Renewal by Andersen of Montana, our experts are happy to sit down with you to decide on the best choices for your home.
Tired of spending too much cash on high energy bills? We have the solution. Plus, we can help you boost your home's curb appeal and comfort throughout all seasons. Our diverse window styles combine advanced materials with timeless beauty, whether you want a traditional look, modern elegance, or specialty windows for a particular need.
Choosing Renewal by Andersen of Montana for window replacement is the wisest decision you will ever make when it comes to home improvement. We provide installation for windows in Billings as well as surrounding communities such as Bozeman, Miles City, Belgrade and Livingston. Take a look at some of the products we offer:
It's time you enjoyed a worry-free installation thanks to our fully certified Renewal by Andersen staff, with replacement windows that are protected by one of the strongest window and door replacement limited warranties you will ever find.*
We're proud of our replacement windows and patio doors, each of which is designed to add lasting value to your home. Call for an appointment now and one of our window experts will visit your home for a free consultation and estimate.
Get a FREE Estimate on Window Replacement Today
Whether you need one replacement window or all of them done, we can help. Let us help you budget for this project when you call for a free, no-obligation estimate. Renewal by Andersen of Montana can be reached at (406) 259-3944 or at 619 Daniel St Billings, MT 59101.
*Values are based on comparison of Renewal by Andersen® double-hung inserted window SHGC to the SHGC for clear dual pane glass non-metal frame default values from the 2006 and 2009 International Energy Conservation Code.
"Renewal by Andersen" and all other marks where denoted are trademarks of Andersen Corporation. © 2017 Andersen Corporation. All right reserved.