Looking to replace your old windows this season? If so, be sure to choose ones that use a strong and energy-efficient framing material. This ensures that your replacement window provides long-lasting performance that your home needs.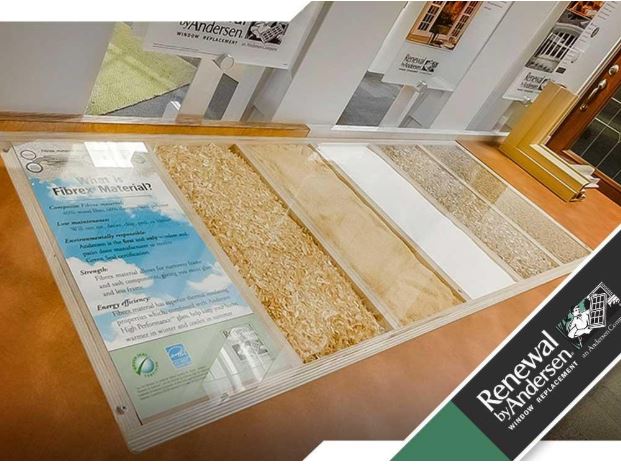 While today's window replacement market has a wide range of frames, one material continues to grow in popularity among homeowners: Fibrex® from Renewal by Andersen®. Our Fibrex frames offer many excellent features that make them stand out among standard framing materials on the market. Let Renewal by Andersen of Montana delve deeper into its amazing qualities.
Why It Stands Out
Many windows across the country use common materials, like wood and vinyl. These traditional choices work well in most homes, but since energy-efficient and sustainable practices have become more important, many homeowners have started looking for eco-friendly custom windows. This is where our Fibrex material comes into the picture.
Made of reclaimed wood fiber and PVC polymer, Fibrex combines all the qualities of standard materials, minus their drawbacks. It offers the superior durability of wood as well as the versatility and low-maintenance properties of vinyl. More importantly, its high insulation values help homeowners minimize energy leaks and create a greener home for their families.
Features and Benefits
At Renewal by Andersen, we make all our windows from Fibrex because of its numerous advantages, which include:
Sustainability – Fibrex is a composite frame material made of 40% reclaimed wood fiber. During the manufacturing process, excess materials are reground and reused to produce more quality windows. It doesn't come with artificial components and harmful chemicals, so rest assured you can enjoy a healthier home with our products.

Beauty – Since they are versatile in design, they can be made into virtually any shape and style. We offer various styles, including picture, sliding, specialty, and casement windows. Our Fibrex frames are easy to maintain, since they won't rot, decay, or mold regardless of the condition.

Energy-Efficiency – Fibrex, when paired with our High-Performance™ Low-E4® glass, can help you save on energy costs for many years. They help trap necessary energy inside your home, allowing you to enjoy reduced utility costs over time.
When you're ready to experience all the remarkable benefits of Fibrex, you can turn to Renewal by Andersen of Montana. We'll help you maximize the beauty and comfort of your home with our topnotch replacement windows. To get started, simply call us at (406) 259-3944 or complete our form. We look forward to working with you!